Paula Hamilton (born 1961) is an English model, chiefly known for her appearance in the award winning 1987 Mk II Volkswagen Golf TV advert Changes. In the mid-2000s, she was a Britain's Next Top Model judge for two cycles.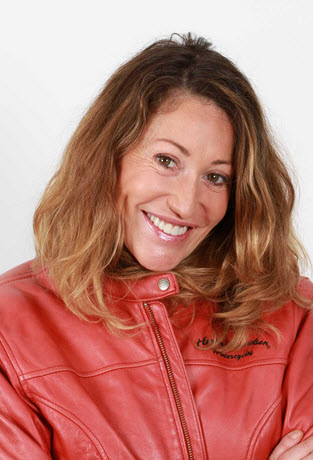 At the age of 47, Hamilton was diagnosed with a combination of Asperger's syndrome, dyslexia and dyspraxia. She struggled with school as a child, and did not learn to read and write until she was 11 years old.
Hamilton has written an autobiography titled "Instructions Not Included", published in 1996.
Background
Paula Hamilton was born in England, but moved to South Africa with her mother as a small child. In South Africa, she was raised by her mother and stepfather. When she was eight years old, the family moved back to England and settled in Hertfordshire. Hamilton has four half-siblings.
Education
Hamilton went to the Burnham Secondary Modern School and the Licensed Victuallers' School, both located in the Slough area.
In the year 2000, Hamilton moved to New Zealand to study business at Christchurch Polytechnic.
Modeling career
Paula Hamilton moved to Japan at the age of 17 and worked in Tokyo for a year and a half. After living in Australia, Germany and Italy, she returned to Great Britain where she was discovered by photographer David Bailey who helped her land a job as main model for English fashion designer Sir Hardy Amies.
As a young model, Hamilton worked closely with Italian photographer Fabrizio Ferrei.
Changes
One of the high points of Hamilton's modeling career was her appearance in the award winning 1987 Mk II Volkswagen Golf TV advert Changes.
In the add, Hamilton is styled to look similar to Diana, Princess of Wales. She is seen leaving her husband, and getting rid of her wedding ring, a pearl necklace, a brooch and a mink coat. As the approaches a drain she appears to be about to throw her car keys into it, but changes her mind. The advert ends with her driving off in a Volkswagen Golf with a smile on her face. The strapline reads: " If only everything in life was as reliable as a Volkswagen."
Directed by David Bailey, the advert was awarded the Silver prize at the 1988 British Arrows Awards and ushered in a new era in car advertising.
The highly successful advert also served to catapult Hamilton into mainstream fame and recognition as "the Volkswagen girl".
Later career
At the age of 45, Hamilton re-signed with the modeling agency Models 1.
At the time of writing, Hamilton is signed to M±P Models.
Acting career
Paula Hamilton appears in movies such as "Mad Dogs and Englishmen" (1995) and "Monk Dawson" (1998).
In 1996, she featured in the music video for Take That's hit single "How Deep Is Your Love".
Television
Hamilton was a judge on the second and third series of Britain's Next Top Model on Living TV.
In 2011, she starred in the second series of Celebrity Five Go To… on Channel 4. During this series, the celebrities went to South Africa, the country where Hamilton lived as a young child.
Hamilton participated in Celebrity Big Brother 11.
Substance abuse and mental health struggles
Paula Hamilton has endured several bouts of substance abuse and poor mental health. In her 20s, she got addicted to cocaine. After being drug free for seven years, she developed an alcohol addiction.
In her 20s, she attempted suicide by hanging herself from a chandelier after her relationship with British Army Officer Sebastian Rhodes-Stampa had ended.
During her time in New Zealand, Hamilton sought treatment for her alcoholism at the clinic The Deanery in Christchurch, but grew disillusioned with them after they leaked private details of her admission and treatment to the media. She then spearheaded a campaign to have the clinic closed down.
She has been convicted of drunk driving three times; most recently in 2012 after crashing her car into a conservatory.