Linus Söderström (born 1996) is a Swedish professional ice hockey goaltender, currently with the HV71 of the Swedish Hockey League (SHL) on loan from the New York Islanders of the National Hockey League (NHL) in the United States.
Söderström was diagnosed with both Asperger syndrome and attention deficit hyperactivity disorder (ADHD) at the age of 7. In several interviews with Swedish media, he has spoken openly about his struggles as a child and adolescent, including the bullying he was subjected to by fellow hockey team members.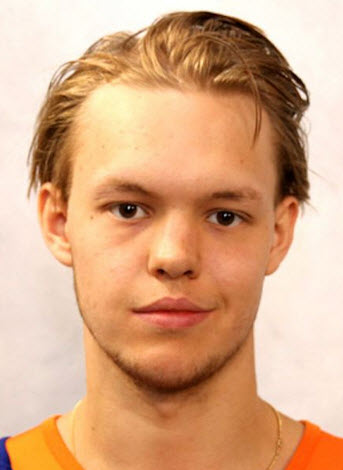 "I went public with this because I realized that if you play at this level, you have to take responsability as a role model and face for the ice hockey world," he said in an 2017 interview with TV4′. "It's not about me, it's about everyone else. I know how bad you can feel and how small. How bullied you can be by hockey team members, like I was for many years."
Söderström prefers to refer to his two diagnosis as special abilities rather than diseases or disorders.
"I've heard many people say that if you have ADHD or Asperger's, you have a disease. One step in the right direction is for society to start seeing it as a special ability," he is quoted saying in an interview with Swedish tabloid Aftonbladet. "I've been severely bullied by some team mates. (…) I've also been in very dark places, but I had my family who helped me find the joy in playing ice hockey. I hope that other people out there, youngsters who are going through a rough time, can feel that they can keep going on. Never lose faith in yourself."
As a result of his ADHD, Söderström found it difficult to cope with school.
"I shouldn't say that I've had a tough life; I've had a wonderful life and have a wonderful family and my parents have always supported me, but it's been a long journey. When I was a little kid, I found it difficult to sit still in the class room and remain concentrated during class. Third grade was really the last time I attended a 'normal' school," he explained in an interveiw with TV4 Sport. After third grade, Söderström was transferred to special education where he attended class with much fewer pupils – which suited him much better. "One got the time and calmness that one needed and somehow it transfered into the hockey. I became more serious and more driven there. I wouldn't be the person or ice hockey player that I am today without exactly these special abilities and, most of all, the help I got at this school. I've got the teachers there to thank for everything."
About Linus Söderström
Name: Linus Söderström
Born: On 23 August 1996 in Stockholm, Sweden
Height: 193 cm (6 ft 4 in)
Weight: 90 kg (198 lb)
Linus Söderström is the younger brother of soccer player Tim Söderström.
Playing career
Playing career
2014 – present
Position
Goaltender
Catches
Left
NHL team (P)
Cur. team
New York Islanders
HV71 (SHL)
NHL Draft
95th overall, 2014
New York Islanders
Early career
Linus Söderström initially signed with Djurgårdens IF in Sweden. While playing at the J20 SuperElit level, he was selected by the New York Islanders in the 4th round of the 2014 NHL Entry Draft.
Söderström stayed with Djurgårdens IF until April 2016 when he signed a one-year contract with HV71. During his time with Djurgårdens IF, he was on loan assignments in the HockeyAllsvenskan with Södertälje SK, Almtuna IS and HC Vita Hästen. He never made a senior appearance in Djurgårdens IF.
SHL debut
Söderström made his SHL debut on 1 October, 2016.
New York Islanders
Södersröm signed a three-year, entry-level contract with the New York Islanders in May 2017.
Awards and honors
| | |
| --- | --- |
| Award | Year |
| SHL Best GAA (1.34) | 2017 |
| SHL Le Mat Trophy (HV71) | 2017 |