Heather Kuzmich (born 1986) is a United States fashion model, best known for her participation in cycle 9 of the TV-show America's Next Top Model. She currently lives in Chicago, Illinois, where she is studying video game design.
During Kuzmich participation in America's Next Top Model, it was revealed that she was diagnosed with Asperger's syndrome at age 15. Kuzmich has stated that she struggles with communication and that it is difficult for her to approach people.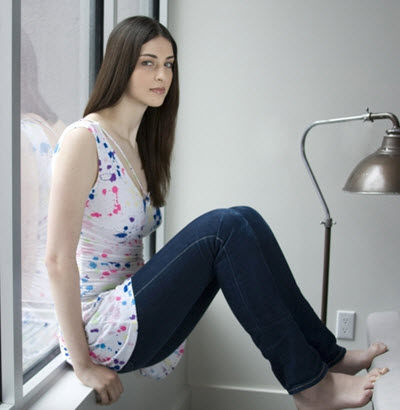 During Top Model, Kuzmich recieved a lot of press and several talk shows invited her to talk about her life as a model with Asperger's, including Good Morning America. She was also interviewed by The New York Times.
Early on in cycle 9 some of the other contestants made fun of Kuzmich behaviour, which they deemed to be awkward.
Kuzmich has appeared on the cover and inside of Spectrum Magazine, a magazine for individuals with ASD and their families. Kuzmich also did a photoshoot for the July 2008 issue of Wedding Essential, which was featured on MTV's Made where a young boy with Asperger's followed her on set.
About Kuzmich
Name: Heather Kuzmich
Born: 19 April, 1986, in Valparaiso, Indiana, USA
Affiliation: Kuzmich is signed to Elite Model Management in Chicago and Hong Kong.
America's Next Top Model
Heather Kuzmich was one the contestants in cycle 9 of the TV-show America's Next Top Model. She was initially reluctant to apply to the show, but was convinced by a friend who urged her to watch Cycle 7.
Six weeks into the show, Kuzmich received a lot of praise for her face-forward photos during the recycling challenge. The next week, the singer Enrique Iglesias was so impressed by her look that he picked her for one of two featured roles in his music video.
After winning one of the Top Model challenges, Kuzmich was awarded with a spot in a special photo-shoot for the American multi-cultural beauty brand Carol's Daughter; a shoot directed by artist Mary J. Blige.
Kuzmich's struggle with Asperger's caused difficulties for her during the show, especially in scenarios where communication was important. During the week nine, she froze up in front of the audience as she was about to speak during a runway challenge. During week ten, when the contestants visited China, Kuzmich found it difficult to deliver her lines in a commercial shot for CoverGirl Queen Collection.
During week eleven, the contestants went on go-sees in Shanghai, where Kuzmich got lost in the city and only made it to one appointment. (The other contestants made it to at least three.) Her return was so late that she was disqualified. As per usual, she was praised for the stunning looks and great shots, but chritized for her inabilities in other areas. Among other things, her lack of eye contact during cat walks was put forward as a problem. She was eliminated and became the 9th contestant to leave Cycle 9.
During her time with the show, Kuzmich won nin CoverGirl of he Week Awards, including one that she was selected for after being eliminated.