Daantjie Badenhorts is a South African quiz show champion, journalist and author diagnosed with Asperger syndrome (which is now considered a part of ASD). Badenhorst is open with his diagnosis and campaigns for public awareness of the condition.
In 2004, Badenhorst entered the long-running Afrikaans language television musical quiz show Noot vir Noot where he quickly attracted plenty of attention by breaking the scoreboard's maximum of ZAR 10,000. Before the evening was over, Badenhorst had won a record-breaking ZAR 26,075. Eventually, his total winnings in the series landed at ZAR 77,200 which was an all-time record for Noot vir Noot.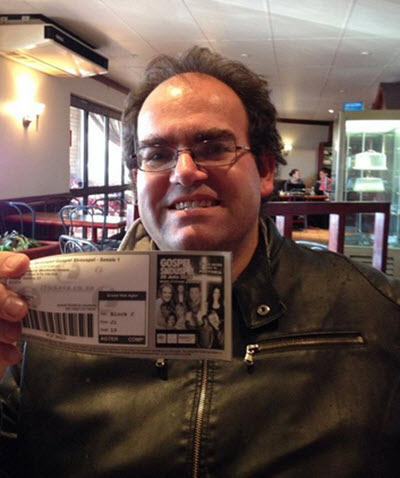 During his participation in Noot vir Noot, plenty of articles were written about him in South Africa, both about his performance on the show and his ASD diagnosis. Both English-language and Afrikaans-language newspaper and magazines were interested in his story.
After finnishing Noot vir Noot, Badenhorts were invited to the Flinkdink quiz show, a televised Afrikaans language general knowledge quiz show. He accepted the invite, and went on to win the 2005 edition of Flinkdink. He was then participated in the Champion of Champions Noot vir Noot challange, where he lost to Zelda Mayer.
His quiz show performances caught the attention of Beeld, the largest Afrikaans-language newspaper in South Africa, and Badhenhorts started working as a sub-editor there, eventually also becomming a content editor of the newspaper's internet edition.
In 2005, Badenhorts's debut novel "Net een wenner" was published. The titel means "Only one winner" in Afrikaans.
About Daantjie Badenhorst
Name: Daniel Streicher Badenhorst
Known as: Daatjie Badenhorts, Daantjie Dinamiet (Daniel Dynamite)
Born: On 6 December 1967, in Pietermaritzburg, Natal Province, South Africa
Badenhorst has four sibblings. He graduated high school at Hoërskool Waterfkloof in Pretoria in 1985 and started working for the South African Government Printing Works.
Badenhorst is married and have two children. His son Dirk was born in 2004 and his daughter Suzanne in 2007.
Badenhorsts first language is Afrikaans, but he is also fluent in English, French and German.